Host your site with
Red Foot Joomla hosting.
Jump for Joomla!
We've got hosting for every kind of Joomla! website. Market-dominating mega-marts and start-ups galore – not to mention many a side hustle, have found what they're looking for with a Red Foot Hosting solution and the Joomla! content management system (CMS).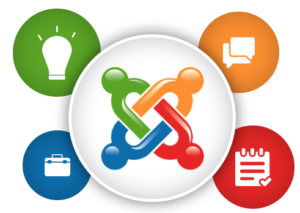 Why should I go with Red Foot Joomla Hosting?
We can have you set up in minutes with our one-click Installatron tool.
Performance, speed and uptime
Cutting-edge powerful servers backed by multiple redundant connections in secure data centers all over the world mean your site has a 99.9% uptime guarantee.
The customer care agents around the world offer tech support and troubleshooting info in local languages every hour of the day.
Whether you're looking for a starter web-hosting plan or the scalability of a powerful private server, you'll find it here.
Which hosting product suits you?
Web designers and developers who need flexible, affordable hosting for basic sites
eCommerce, high-traffic or resource-heavy sites
eCommerce, high-traffic or resouce-heavy sites, with root access for server optimization









Wanna know why Joomla! is worth shouting about?
Joomla! goes boom.
The year it was released, Joomla! won Best Linux / Open Source Project of 2005 at the Linux & Open Source Awards in London. The movement has only gotten bigger since then. It's estimated that Joomla! is the second most-used content management system (CMS) in use today, after WordPress.
Fun fact: The name Joomla! comes from the Swahili word jumla, meaning "all together" or "as a whole." The word holds a similar meaning in Amharic, Arabic and Urdu, as well.
The Joomla! community.
Just last year, Joomla! was lauded as the Best Free CMS by the CMS Critic People's Choice Awards. It's not all trophies and accolades, however (though they've received many). The Joomla! community is over 93 million strong, which means you're in good company if you build your site with this CMS. The enormous family of Joomla! developers offers a unique support system for working through any and all issues that inevitably arise.
Extension(s) please.
A whole host (pun intended) of extensions make Joomla! sites so amazing: components, modules, plugins, templates, languages, libraries, files and packages. The Joomla! Extensions Directory offers over 8,000 free and paid extensions to build out your site. That means that if you're looking for unique ways to share content, you've got a good chance of finding it. It's the best platform for pages that can be easily printed, including blogs, news and opinion articles.
The Joomla! Framework.
Big, cool sites don't just stop with the Joomla! Core package and extensions. The Joomla! Framework allows for developers to utilize virtually any add-on he or she can imagine; systems for inventory control, product catalogues, business directories, reservation systems, integrated eCommerce and data analytics tools, and a lot more.